I'm glad you asked.
Since Christmas Eve, we've been quite busy. Let's start at the beginning.
On Wednesday, January 1, we piled into the car for an eleven-hour ride to Schweitzer Ski Resort, where we spent four nights with my aunt, uncle, and cousins. Five of the nine of us skied on Thursday, Friday, and Saturday. Saturday was by far the best day, as it was sunny and clear. Meanwhile, back in the cabin, my dad cooked all day. On Greek night (Saturday night), he made everything from tzatziki and pita bread to stuffed peppers and white and milk chocolate mousse with dark chocolate ganache, strawberry coulis, and a raspberry on top.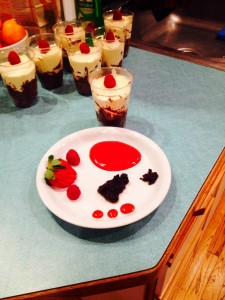 It was delicious.
Soon, it was back to school. On January 25, Ethan's 8th grade class had a talent show/auction fundraiser, and I contributed to both parts. For the cake auction, I baked a dozen chocolate-zucchini cupcakes with cinnamon buttercream. They sold for $60- up $20 from my cookies of 2012. I also asked my friend Charlotte to play the piano while I played the flute. Our song "Let It Go" from Disney's Frozen won first place.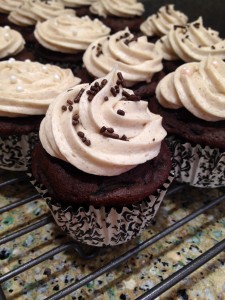 The following week was filled with tests, as it was end-of-semester finals for me. On the last day (Wednesday), I was thrilled when my band teacher asked me to join the school's symphony, which is the most advanced instrumental group at my school. The next week was nerve-wracking, as I hardly knew anyone in the group and had to sight-read all the music. It's been over a month-and-a-half since then, however, and I know that I have improved.
Last Friday (March 14, Pi Day) was the start of what I dubbed Music Week. On that day, I got to school early to join the symphony at South Eugene High School to play in a festival. It was our first attempt to qualify for the OSAA State Championships. We didn't make it, unfortunately, but we had played well and our scores reflected that. Monday had piano lessons (as usual), and on Tuesday Ethan had his guitar lesson (also as usual). I was excited for Wednesday, which was the 12-hour trip to Ashland, Oregon, for the symphony's second chance at states. We performed sub-par, and we returned home dejected. However, Thursday night's amazing orchestra/symphony/band/jazz band concert more than made up for it, even though we knew our scores (which we hadn't yet received) wouldn't be good.
Then we found out today that we won districts by one point and had automatically qualified for the state championships, which are in May. As the only flute player in the symphony, I am terrified.
But I made a cake!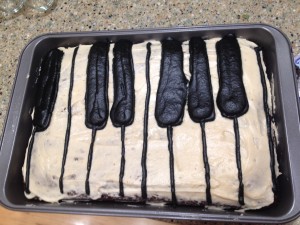 And it was pretty darn good.
Ciao!